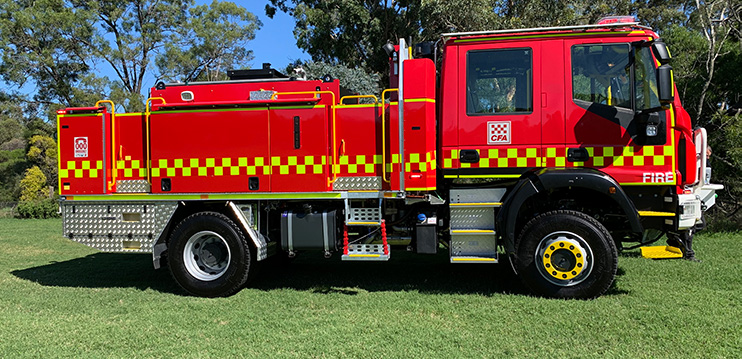 New Heavy Tanker in Production
2020 has seen the roll out of a new generation of Heavy Tanker designed and manufactured for the Victorian CFA by North Sunshine based R. A. Bell (Bell Fire and Rescue).
Eighteen new trucks are currently being built and a further 25 been ordered for next year.
This tanker incorporates several design enhancements from the previous 80 built by Bell and incorporates a fully automatic Allison transmission that will further enhance on-road and off-road capability.
This is an entirely new and innovative concept for the CFA and other agencies are watching this development closely.
The new design incorporates, and main features of this vehicle are:
15T Iveco Eurocargo 4×4 crew cab chassis with Allison automatic
4,000 litre water tanks
1,200 litres/minute water pump
Class A foam capability
Full stowage inventory
0-450 litres/minute front mounted monitor with joystick control inside the cabin.
Quote attributable to TFS Chief Officer Chris Arnol
"Our drive is to continually improve, and a number of new and exciting ideas are being considered for the Next Generation build."
Quote attributable to Manager Bell Fire and Rescue Frank Chiriano
"In conjunction with our customer base are pleased to be working to assist agencies to build the best equipment for all Australian agencies."
Quote attributable to General Manager Bell Fire and Rescue Peter Fowler
"Bell Fire and Rescue is pleased to be working closely with government and academia to ensure the best possible locally procured firefighting equipment is available to our agencies. Australian manufacturing capability is well regarded globally and there is no more important time to be supporting Australian manufacturing than now."
Contact: Peter Fowler 0407 176 018 | pfowler@bellenvironmental.com.au